Tue 13 Dec 2005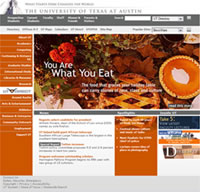 I have a dream…that the UT Home Page will be modernized. It has been over 3 years since our last major redesign, and while the information design, branding and content are still on the mark, there is plenty of room for technical improvements. (Lord, isn't that always true?)
Now my dream is coming true! So, for your preview pleasure, I'll share the work of my fabulous team mates, Diane, Carol, PJ and Rachel. In reality, I think everyone on our team has contributed.
What a great opportunity to explore the benefits of modernizing to web standards.
| | | |
| --- | --- | --- |
| | old | new |
| filesize | 31.54 kB | 18.96 kB |
| doctype | HTML 4.0 Transitional | XHTML 1.0 Transitional |
| number of images | 35 | 11 |
| number of layout tables | 5 | 0 |
| fonts | fixed | scalable |
| rollovers | javascript | css |
| semantic markup | title | title, headers, lists, divs |
Now, what do you think? What other benefits have we garnered by modernizing to XHTML 1.0 Transitional, smart CSS layout and semantic markup? I'd love to hear your thoughts!