Wed 3 Jan 2007
My dear friend, Meesh, and I went to Robert Frost's Farm in Derry, New Hampshire on December 31st. It was midday and a blanket of fresh snow covered the ground. Being there was like walking through poetry. It was so peaceful. I could feel the presence of Robert Frost in those snowy woods.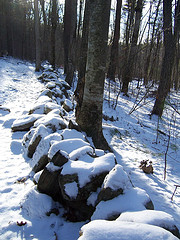 I loved the way the snow laid on the stone wall. This poem was written in reference to this very stone wall.
excerpt from Mending Wall
Before I built a wall I'd ask to know
What I was walling in or walling out,
And to whom I was like to give offense.
Something there is that doesn't love a wall,
That wants it down.
And while I could have spent all day at Frost's farm…Walden Pond beckoned.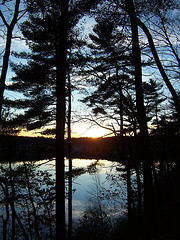 We watched the sun set on Walden Pond and understood why Thoreau chose this as his retreat. His words echoed in my head as I walked in his footsteps:
I went to the woods because I wished to live deliberately, to front only the essential facts of life, and see if I could learn what it had to teach, and not when I die, discover that I had not lived." – Henry Thoreau
Later that evening we toasted in the new year with champagne, chocolate covered strawberries and the words of Robert Frost and Henry Thoreau. I can't think of a better way to spend New Year's Eve.
---
One Response to " Walking Through Poetry "
Comments:
meesh says:
February 12th, 2007 at 11:00 pm

It was a great day.