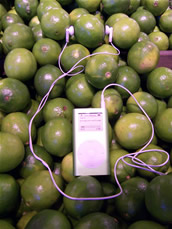 Friday's are perfect for fieldtrips. Time to get out of the office and explore technology in the real world. This morning I found myself at Whole Foods with Megan checking out the iPod audio tour of the store. What? An audio tour of a grocery store? Mmmmmhmmmm. And, let me say, Whole Foods is more like a food exploratorium than a grocery store.
Whole Foods has teamed up with Apple and KUT to create a 20 minute tour highlighting some of my favorite features of the store like Beer Alley and Candy Island. And if that isn't enough, Waterloo Records loaded the iPods with tunes that will have you dancing through the aisles.
Now for a little plus delta review.
Plus
Quality Audio – A lot of thought was obviously put in to the tour script. I found each segment to be interesting and the variety of voices made me feel like I was on a backstage tour. Audio production was obviously done by experienced professionals.
Perfect Length – What is the right length? For me, it always leaves me wanting a bit more. I actually listened to the whole 20 minute tour and found it enjoyable.
Sweet Music – I love the idea of being able to check out an iPod preloaded by Waterloo Records with delicious music to shop by.
Cool Factor – Ya gotta admit, an iPod tour of a grocery store is hot!
Delta
Shuffle – my iPod was set to shuffle, so after listening to the introduction in the produce section, it then skipped to the conclusion…oops! I was able to turn shuffle off, but an inexperienced iPoder would have been lost.
Continuous Play – iPods are designed for listening to music. The continuous play feature made me feel rushed. It wasn't until I got to Beer Alley that I thought…hey, I'm not ready to leave here yet, and pressed pause. Easy for me, but not obvious to iPod neophytes
Start Point – When Megan was handed her iPod, it was set to the architecture tour, rather than the store tour. It took her a while to realize that my tour must be different (as I left her in the dust over by the artichokes). Finding the store tour took some sleuthing on her part that could have been a brick wall for other users.
So, my overall experience was very positive. The only issues I had were inherent to the iPod interface itself. Reminds me of a wonderful quote from Peter Samis' recent paper on artcasting:
Podcasts are a new format and require a new way of thinking about audio tours – it's best not to use podcasts as object-specific guides. Unlike keypad-based tours, iPods require familiarity with the clickwheel at their center. For visitors who have never used an iPod – and there are millions of such elders in the museum-going population – the clickwheel can be utterly mystifying. What do you click? How do you adjust the volume? What happens if you inadvertently press the back arrow or, worse yet, hit the Menu button and leap out of the playlist altogether? Such uncertainties can leave a visitor feeling hopelessly lost. (Moss, 2006)
So, the next time you are in the Whole Foods in Austin on Lamar, stop by customer service and get your hands on a hot iPod mini to enhance your explorations of this market mecca.