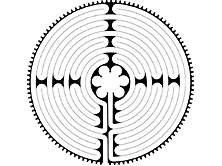 Have you ever walked a labyrinth? When my friend first invited me, I thought it would be like a maze. But instead I discovered that a labyrinth, by definition, has only one path to the center. There are no tricks or dead ends.
The labyrinth is an ancient pattern that is found in many cultures and dates back more than 4000 years. Whether it is the Jewish Kabala, the Celtic Never Ending Circle or the Native American Medicine Wheel, it is an incredibly powerful tool for meditation, reflection and inspiration.
There are three stages to walking a labyrinth:
Letting Go – as you walk into the labyrinth, you let go and clear your mind
Receiving – as you stand in the center of the labyrinth, you hear the wisdom of your heart
Returning – as you walk out of the labyrinth, you set your ambitions
My favorite labyrinth is based on the 11-circuit labyrinth of Chartres Cathedral in France. I'll never forget the first time I walked it. Walking the path required more concentration than I expected, naturally quieting the cacophony in my head. As I took each turn (most of them 180 degrees) I clearly felt an inner struggle with change. As I approached the next turn, rather than rush through it, I stopped and stood at the apex of the turn. The interesting perspective of looking forward and backward gave me the opportunity to transform how I approach revolutions in my every day life. So now, when I'm at my best, I see major change as just part of the path. I don't fear it or fight it or rush it.
I also use the labyrinth as a way to listen to my heart and ponder questions. Why am I here? What is my purpose? What can I do to make a difference? Am I living my life to the fullest?
What do you do to find peace and inspiration?