As fall rolls around each year, you are likely to find me in my kitchen making gingerbread. My mom discovered this recipe when she stayed at the romantic B&B called Inn on the Creek in Salado, Texas. I believe, with all my heart, that it is the best gingerbread recipe on the planet!
2 eggs, beaten
1 cup buttermilk
1 pound dark brown sugar
2 cups all-purpose flour
3/4 cup softened butter
1 teaspoon baking soda
1 teaspoon ginger
2 teaspoons cinnamon
1 1/2 teaspoons fresh ground nutmeg (this is what makes it awesome!)
Preheat oven to 350 degrees.
Add eggs to buttermilk. Blend and set aside.
Combine brown sugar and flour. Cut in butter. Reserve 1 cup of mixture for later use. To remainder of sugar mixture add baking soda, ginger, cinnamon and nutmeg. Stir in buttermilk mixture just until all ingredients are moist.
Pour batter into 9 by 13-inch greased and floured metal baking pan. Sprinkle reserved cup of sugar mixture over top of batter.
Bake 35-45 minutes.
Serve with mounds of freshly whipped cream.
Note: Whole Nutmeg looks like this: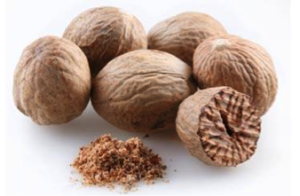 Use a grater to get fresh nutmeg. I know, it seems like extra work…but once you taste it, you will never want your nutmeg any other way than fresh!